The Midas touch helps drama franchise grow business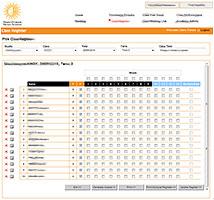 The client
Helen O'Grady Drama Academies
-
www.helenogrady.co.uk
Sector
Private/franchise
Key requirements
1) Enable franchisees to manage their administration and finances quickly and simply.
2) Enable head office to work out and collect royalties regularly and on time.
The problem
Helen O'Grady Drama Academies needed a way to keep track of the 15,000 children attending 50 academies around the UK each week. The paper-based recording system it used to keep track of pupils, accounts and to deliver marketing campaigns was proving to be a major headache for the academy's principals and the franchisor's head office. Each academy had developed its own way of working, some using Word and others Excel, so head office spent a huge amount of time chasing payments and reports.
"Our network of franchises was growing at such a speed, we realised we had to do something as a company to streamline all the administration systems. We needed a system that would do everything from registering enquiries, enrolling new children, recording attendance, fee collection, marketing - everything."
Margaret Darley, training manager
What we did
Meantime created a web-based system called Midas - Management Information Data and Support - which can be accessed by every franchisee at any time of the day or night. The bespoke software replicated the paper-based system used by head office, with easy to navigate screens that look like the paper forms head office had used for years.
The system lets head office see at a glance how many pupils are in each class and exactly how much money each franchisee owes at any one time. For franchisees, simply entering a student's name and date of birth creates an automated process to take care of enrolment, fees, marketing and certificates. And as it's all in real-time, franchisees and head office can call up information on any pupil, class or franchise from anywhere at any time.
What they said
"
Meantime delivered a web-based system that worked exactly how we wanted it to – even the screens looked the same as our old paper forms so it was incredibly easy to make the switch.
"
"
Midas has saved us at least half the amount of time we used to spend on admin.
"
"
I set a whole day aside to tackle a tax return, but it took just 10 minutes using the Midas system.
"
Gill Hollis, franchisee
See how our bespoke software has helped our customers and learn how it can help you