Meantime's bespoke system eliminates stress and enables growth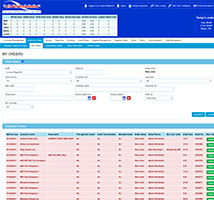 The client
Coniston Corporate UK
-
www.corporate-embroidery.co.uk
Sector
Private / SME
Key requirements
A web-based ordering and administration system to automate orders, invoicing and stock control.
The problem
Coniston Corporate Embroidery provides work-wear and bespoke embroidery to its clients, which range from large national companies to small local businesses. Orders can be anything from one garment to thousands. The paper-based ordering and administration system, with Sage for accounting, was proving prohibitive to growth. The inflexibility of the off-the-shelf package coupled with the margin for human error in logo design was causing unnecessary stress for the staff. And because garments could be produced from a verbal order, errors could go unchecked until the order had been dispatched, resulting in costly returns.

"As well as needing a total revamp of the look and functionality of our website, we wanted an administration system that would process every stage of the order from the initial enquiry through to design, ordering the required stock, and delivery and invoicing that could be accessed by every member of staff involved in production."
Paul Reilly, managing director

What we did
Meantime created a system which allows clients to choose from 25,000 different items, with re-ordering being completely automated as soon as the order is inputted into the system. Supplier orders are generated automatically to meet the requirements of customer orders, and when the supplies are delivered the relevant customer orders are identified and prioritised for production. We also built in an automatic margin reporting system, to make sure that while Coniston offers the best price to its customers, there were enough profits to sustain and grow the business. Automatic invoicing and statements then followed, drastically streamlining the whole process. The automated processing system has seen Coniston's error margin drop from 5% to 1%.
What they said
"
They've taken everything I asked for and turned it into a working system that I can quite honestly say has enabled our business to grow beyond all expectations.
"
Paul Reilly, managing director
See how our bespoke software has helped our customers and learn how it can help you