Meantime's software essential to Heathrow operations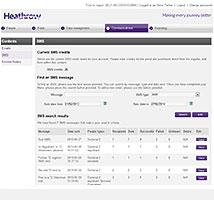 The client
Heathrow Airports Ltd
-
www.heathrowairport.com
Sector
Private / airports / travel
Key requirements
A booking system to manage shifts and role allocation for hundreds of airport staff
The problem
During busy periods, Heathrow relies on hundreds of non-operational staff to step in and help with high numbers of passengers. Staff usually based behind the scenes with no passenger contact are called up to help provide passengers with a smooth journey through the airport. Meantime was asked to create a software system that would manage these Reservist staff, allocating hundreds of shifts and roles around the airport as they were needed.

What we did
We developed a system that combines online functionality with SMS communication. When Reservists log onto the online shift-booking system and the software's intelligence identifies and displays suitable roles for each individual to choose from. When the roles have been allocated, the software continuously analyses requirements and responds to changes in staffing levels, contacting staff via SMS to give vital updates. The SMS feature can be used to target reservist help where it is urgently required, selecting up to several hundred people instantaneously and deploying them to specific areas. SMS sending takes around 45 seconds for 800 messages and Meantime's inbuilt tracking and reporting functionality means Reservist management can see and act on the delivery status of each message, quickly identifying who has received their text message and when.
What they said
"
It's definitely one of the most innovative things that we've ever done for passenger satisfaction.
"
Michelle Smith, head of passenger welfare, Heathrow Airports Ltd
See how our bespoke software has helped our customers and learn how it can help you