Back to school for Heathrow's retail partners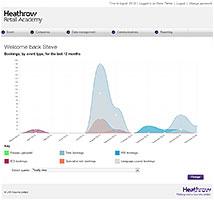 The client
Heathrow Airports Ltd.
-
www.heathrowairport.com
Sector
Private / airports / travel
Key requirements
An online booking system to manage induction bookings for 5,500 retail staff within Heathrow Airport
The problem
The Retail Academy is a support network that supports all Heathrow's business partners in delivering activities which have an impact on service standards. In 2012 a new starter induction for all business partners' staff was launched. This one-day induction is designed to support retail staff by providing a valuable insight into their wider airport environment, including awareness of Heathrow's brand ideals, understanding of general passenger needs, airport operations and safety at Heathrow. Meantime was charged with creating a branded system to manage the entire booking process for all current and new staff of Heathrow's business partners.
"We told Meantime we needed an online booking system for our business partners to access, that it had to be branded the way we wanted and also have the scope and infrastructure to change and develop over time. With it being a new project we didn't know what was going to happen in the next few months and we had an original list of requirements, but it was very much a case of, 'well you're the experts, you tell us."
Karima Sakhi, Retail Academy manager
What we did
We created a multi-layered system that gives Heathrow, its partners and their staff their own levels of access and functionality. Retail Academy staff have an admin level to add retail partners and details of training and induction dates. The partners have a separate level of access to book in their own staff along with information such as their location within the airport and security pass number. Staff are able to book courses according to their job titles, and any staff who don't arrive or don't adequately complete their training are flagged and followed up. We also included an extra level of data collection and reporting that enables the Retail Academy to collect and monitor information that helps the smooth running of the airport, such as languages spoken by staff.
What they said
"
The system was built in a really short period of time, branded the way we wanted, built the way we wanted, and with a lot more intelligence than we'd considered.
"
"
The system will pay for itself in a short period of time in terms of allowing us greater visibility and access to demographics.
"
Karima Sakhi, Retail Academy manager
See how our bespoke software has helped our customers and learn how it can help you