Coniston's ordering system delivers extra income to its clients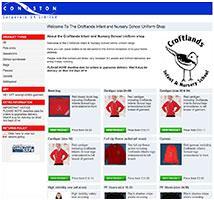 The client
Coniston Corporate UK
-
www.corporate-embroidery.co.uk
Sector
Private / manufacturing / retail / e-commerce
Key requirements
Third-party e-commerce system
The problem
Coniston creates embroidered garments for its clients, who range from schools and SMEs to factories and P&O Cruises. For several years, Coniston has provided clients with a white-label e-commerce site that could be tailored to sell clothing to their own customers. The orders from these sites were collated by staff at Coniston, and then entered onto the central order processing system. Coniston wanted to streamline this process so that orders from the clients' website would go directly into the order processing system.

What we did
From the customer's point of view, the process is the same: they select the garments they require from the website and hit send. But for Coniston, a large chunk of administration has been removed. All orders now feed directly to Coniston's order processing system, which in turn triggers stock ordering, warehouse picking, embroidery, delivery and invoicing. Sellers still receive their percentage on each garment sold, so the enhanced system continues to give them an extra revenue stream with no extra work. Because each individual seller's stock requirements are now tied directly to Coniston's administration system there is one single point of stock control which helps with the supply chain and gives Coniston a better overall view of sales. Finally, while we worked on the website code we reviewed and refined the navigation, layout, and design of the sellers' system, making it more SEO readable and even more user-friendly.
What they said
"
Meantime has offered us an exceptional and innovative service allowing our business to grow beyond all expectations.
"
Paul Reilly, managing director, Coniston Corporate Ltd.
See how our bespoke software has helped our customers and learn how it can help you