Meantime helps Heathrow put passengers first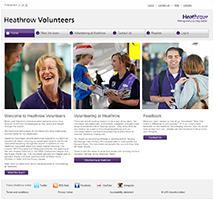 The client
Heathrow Airports Ltd
-
www.heathrowairport.com
Sector
Private / airports / travel
Background
As a major airport group, Heathrow Airports Ltd relies on intelligent IT systems to run every aspect of its operations. But while many organisations focus on using IT for cost-cutting and streamlining, Heathrow is introducing clever systems that are entirely for the benefit of the airport's passengers, at no extra cost.
A summer of sport
Taking direction from Michelle, Meantime created a package that had two major functions: one was to allow potential volunteers to discover information about the programme, register their details and organise the required training for successful applicants; the second to delegate the successful volunteers to their required stations.
More than 4000 people registered for the volunteer programme, with over 1000 going on to assist Heathrow's passengers during one of the busiest summers the airport had ever experienced. Up to 250,000 passengers a day were going through the terminals, and volunteers were on to offer assistance at every stage.
Using hand-held tablets, all tracked by Meantime's system, the volunteers provided passengers with train and bus times, helped them to book hotels and order transport, and directed them to the correct terminals, exits and entry points.
To ensure the volunteers were kept as happy as the passengers, each person who helped out was sent a personal message at the end of each shift to thank them for their contribution. Hours and shifts worked were also analysed at the end of the programme, with volunteers receiving gifts and bonuses for completing targets.
London's legacy
The programme was so successful, Michelle and her team decided to adopt it as a permanent feature of Heathrow's passenger experience. Michelle continues:
"As part of the Olympic legacy, we decided that volunteering is something Heathrow wants to continue with because it was so successful. Of the 1300 volunteers who helped out last year, 150 are now part of the ongoing Heathrow volunteer programme.
"They work with us every month, supporting us in enhancing the passenger experience and particularly when we see lots of passengers travelling to our airports. They would typically be times like Easter and half term when the number of passengers increases.
"The sort of support really depends on the situations they're involved with. For example, over the Christmas period they greeted passengers from the aircraft, gave out chocolates, asked where they were heading and then helped them find their way. It really created a great atmosphere of Christmas cheer."
Time to talk
"Recently, a passenger lost a purse so one of our volunteers helped her to retrace her steps through the terminal, spoke to all the shop owners and put a call out to alert other staff to be on the lookout. I'm happy to say the purse was found fully intact."
As far as Michelle and her team are aware, there are no other airports within the UK that have a free volunteer programme dedicated to supporting passengers. "We introduced the scheme with the intention of it being a short-term programme, but we had such fantastic feedback from passengers, we've invested time and money in making it permanent," she says.
"We're not monitoring or measuring the programme in an official way because we're not doing it from a business point of view; it is simply an investment into the passenger experience. Volunteers are here because they want to be, they don't have a day job they're rushing to get back to. They have time to talk to passengers, help them with any issues or even just have a chat while they're waiting for their flight."
"That's the whole point of the programme; it's not just about giving information and helping out, the volunteers are there to make sure the passengers have a pleasant experience."
See how our bespoke software has helped our customers and learn how it can help you