Creating resources for at-risk teens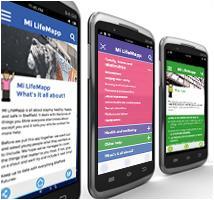 The client
eatsleepthink design/Sheffield Futures
-
www.eatsleepthink.com
Sector
Non-profit/education
Key Requirements
Transfer the contents of a printed medium to an app
Background
We've had the chance to collaborate with Sheffield-based design group eatsleepthink on other projects before, and we know them to be creatively inspired and always fully committed to whatever they take on. So when we got the opportunity to support them in their efforts for Sheffield Futures - a non-profit group that offers a range of services aimed at Sheffield's young people to help them with every aspect of their lives - we jumped at the chance.
The problem
On behalf of Sheffield Futures, eatsleepthink wanted to develop an app for young people in the Sheffield area who face life challenges. The app was intended to provide resources, advice, and information, so it would need to be content-rich, like a web site, but packaged into app form.
Over the course of four years, eatsleepthink had worked with Sheffield Futures on three paper versions of a directory called 'Mi Book,' a directory of services for young people, that was distributed to schools in the area. The books were well received, but it became obvious that given the sensitive nature of the topics (including such issues as substance abuse, sexuality or sex trafficking) there was a premium placed on privacy. And after all, teens are far more likely to seek information from their phones or tablets - so it became clear an app would be the ideal solution.
eatsleepthink found that, although there are several online modules available and other companies who can develop apps, there were a variety of issues with third-party programmes and none quite met their needs. As designers, they wanted a collaborative partner who shared their appreciation of quality in a project, who respected the importance of design, and who understood what they were trying to achieve with the project - in addition to having the technological know-how to bring the app to life
What we did
We used a technology called Phone Gap to develop the app , which enabled us to optimise it for the different iOS and Android phone operating systems, and then submitted the finished product to the iOS and Android app stores. Utilising all new content, we turned eatsleepthink's design into the application they, and Sheffield Futures, had envisioned: "Mi LifeMapp."
Launch of Mi LifeMapp (YouTube)
What they said
"
One of the smoothest collaboration projects we've ever had, and it's a credit to Fenner and the team.
"
Mike Marshall, eatsleepthink Design Limited
See how our bespoke software has helped our customers and learn how it can help you