When it comes to luxury, Meantime show Dublin that the sky's the limit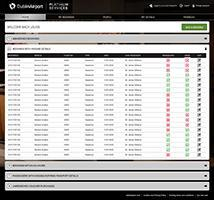 The client
Dublin Airport Ltd
-
www.dublinairport.com
Sector
Private / airports / travel
Key requirements
Provide a VIP booking system to give travellers access to Dublin Airports private, 24 hour terminal.
Background
With the continuing rise in air travel popularity, the management of Dublin Airport saw a chance to streamline and modernise their Platinum services facility, offering VIP treatment from drop-off to take-off. And, thanks to Meantime's excellent reputation in the air travel industry, we were just the ticket!
The Problem
Providing Platinum Services is far from a straightforward ticket and payment transaction. A detailed analysis of the requirements, a process embedded in the Meantime psyche, showed how many ancillary IT systems needed to be integrated into the solution. In addition, the nature of air travel today demanded the full expertise of our ISO27001 certification in terms of security

What we did
Meantime wanted its Platinum Services system to offer everything the modern traveller should expect in a connected world. That meant hand-holding and integration from the very beginning. The bespoke approach to IT resulted in Dublin Airport using software which took into account everything that made them different - just like their VIP travellers.

From the moment a customer books into Platinum Services, they are taken care of. Any changes in flight information which might affect their journey are noted and relayed through notifications, a process which makes for a much more relaxed experience throughout. Travellers are even able to take advantage of other luxury products and services whilst in their suites.

Airport staff benefit from this level of integration too. By giving the Platinum Services' team real-time access to information, they get an up-to-the minute overview of who is booked in where. This in turn results in solving any resource management issues by ensuring the right levels of staff are on hand, with everyone in the team knowing exactly where they should be at any given moment.

What they said
"
We badly needed a new system that would streamline our processes, allow us more time to grow the business and most of all enhance what we offer our clients. Meantime have not only delivered this but have brought a level of customer service that truly makes us feel like a valued client.
"
"
Meantime work in a very collaborative way that is refreshing for all our team here, there is always a commitment to understand what we are looking for and find a solution to our problem.
"
Philip Bolger, Platinum Services Manager

See how our bespoke software has helped our customers and learn how it can help you