Meantime put their finger on the pulse of audit management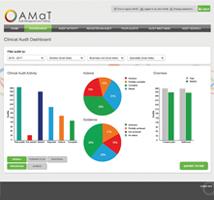 The client
AMaT
-
www.amat.co.uk
Sector
Health Service
Key requirements
Build the first complete solution to track and manage clinical audits.
Background
Before AMaT there were many disparate systems available to healthcare professionals which could deal with individual parts of the audit process. Each existing system health with different areas but none offered a single solution to every area of clinical audit. In addition, no system existed which gave an organisation visibility of audit activity. And that's where Meantime logged on.

The Problem
Accessing data can be an overwhelming and often complicated procedure. It's either the domain of specialist staff or risks being at the mercy of individual skillsets. AMaT and Meantime wanted to simplify and standardise access so that anybody could do it, requiring minimal training. AMaT also wanted the entire audit cycle captured, from identifying audit topics to setting the standards to collecting the data to analysing the data to implementing any change required.

What we did
For every part of the audit, Meantime's philosophy was to maintain a simple interface. Losing user take-up at any stage was unacceptable, and would defeat the objective.

In addition to this, the key objectives were to promote the transparency of activity, guidance management, action planning and simple area auditing.

Meantime took the traditional clinical audit and improvement approach and enabled any user to get an overview of all activity as well as progress and any resulting action plans. With usability first still in mind, Meantime made the registration process, the form creation, reporting and sharing something any user could achieve.

But the innovation didn't stop there. AMaT had even more unique elements ready to offer.

Meantime created a system in which scheduled ward and area audits could be carried out. These could be easily created, submitted and action plans added and updated. The design was so effective that no formal training was required for general users. Adoption was enthusiastic and far-reaching with feedback universally positive.
What they said
"
AMaT is intuitive and perfectly aligned with our processes. Our clinical colleagues are queuing up to use it.
"
Steve O'Brien, Associate Director Quality, LTHTr
See how our bespoke software has helped our customers and learn how it can help you