Meantime take email to the Edge of the World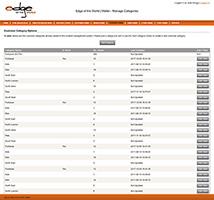 The client
Edge of the World
-
www.edgeoftheworld.com
Sector
Clothing / retail
Key requirements
A bulk email system.
Background
Eight years ago, Edge of the World got in touch and asked us to create a bespoke mailing solution for them. They were well ahead of the curve when it came to understanding the limitations of off-the-shelf products, which is how we knew this would be a great partnership.

And we weren't wrong.

The Problem
Being brand (and customer experience) aware, Edge of the World needed to integrate the website (including the online shopping functionality) with the mailing list. Every detail, right down to the design of the mail shots, formed an important part of the communications strategy and other solutions couldn't offer the required flexibility. This sort of brand integrity is something often spoiled or compromised when using off-the-shelf products.

What we did
Meantime coded a bespoke bulk mailing solution which would link into aspects of the Edge of the World website and create that integrated approach they were looking for. Only a bespoke system could do this.

Our solution enabled Edge of the World to control everything from the look and feel of the mail shots to including 'hot' data from the website and even adding a store login to allow customers to be signed-up in-store. To make best use of customer data, we also implemented 'smart' categorisation which identified new sign-ups and offered them welcome incentives. Of course, loyalty doesn't go unrewarded either - our system could also be used to send special offers and information to long-standing customers. We even updated the mailing system to comply with GDPR legislation.

But perhaps one of the most appealing features wasn't one embedded in code but in the philosophy of Meantime. An honest, transparent server and infrastructure charge gave Edge of the World the means to send as many emails as they required without paying per user because a business needs to react to the moment, not worry about the cost.
What they said
"
Together with Meantime we have been able to create a truly bespoke email system that fulfils all of our needs. We have been able to take our email campaigns to the next level
"
A. North Managing Director
"
Throughout the design, build and testing phases Meantime have been exceptionally helpful. They've answered all questions and implemented changes quickly and efficiently.
"
N. Fairhurst Website Manager
See how our bespoke software has helped our customers and learn how it can help you