Meantime make customer relations upwardly mobile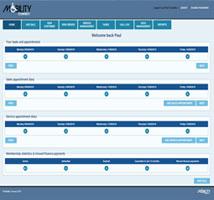 The client
Mobility Connect
-
www.mobilityconnect.co.uk
Sector
Mobility care products
Key requirements
Replace a spreadsheet-based system with bespoke customer relations and sales management software.
Background
In 2011, Morecambe-based Mobility Connect began to supply mobility products, such as scooters. From arranging the finance to installation and maintenance, the company was built on an understanding of their customers' needs and adapting to any changes their lives took.

The problem
For many years Mobility Connect used a series of spreadsheets to deal with customer relationship management and to manage after-sales. This served its purpose - for a while. But as the number of customers topped five thousand, the cracks began to show and the spreadsheet was no longer fit for purpose. Customer information wasn't always updated, and details of customer needs were often lost in the patchwork system. Faced with hiring at least one additional administrator or losing customers because of dissatisfaction, the purchase of a bespoke solution became both logical and affordable.

What we did
Unique businesses have unique problems. Meantime, with its experience in solving these problems, set about designing a system that would not only solve the current problems but to better enable Mobility Connect to face future growth. With Meantime's advice, Mobility Connect's thinking expanded from what they thought they could do to what they could actually do.

The new system made the customer journey a priority. Each member of staff was given an online diary which meant tasks could be better tracked and managed. Further functionality covered sales appointments, engineering appointments and platinum member details. Information was put online but the scope was provided for any information brought in using old fashioned means—such as scribbled on a note during a telephone call. Mobility Connect could even generate sales reports for external audits, log calls, assign individual tasks and organise services. This extensive overhaul of the way Mobility Connect used to work vastly improved customer satisfaction which in turn increased growth.

New systems run the risk of slow adoption in the workplace and so Meantime ensured the new system was intuitive and usable by everyone. The result was robust and quickly became indispensable. Going back to the old way of working was not an option!

What they said
"
Meantime were efficient and friendly, and their system solution has saved us time and money."
"
Louise Livesey, Managing Director, Mobility Connect
See how our bespoke software has helped our customers and learn how it can help you