Meantime IT listens to volunteers to develop cloud-based system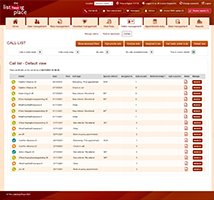 The client
The Listening Place (TLP). A London-based charity that offers face-to-face support for people who feel life is no longer worth living.
-
www.listeningplace.org.uk
Sector
Charity
Key requirements
To develop a secure, highly accessible, reliable, cloud-based software system for managing staff, rotas, visitors, and appointments.
The Problem
The nature of The Listening Place's work requires that any system they incorporate into their working practices must be robust, accurate, reliable, and always available. It also needs to be user-friendly and intuitive to their rapidly expanding support team of Volunteers and support staff.

When we first met them, TLP did have an existing system that was an essential hub for all activity during every shift by staff and volunteers. Naturally, given its importance to the smooth running of their operation, TLP were anxious about commissioning a replacement. However, the existing tool was an Access database, that could not be used to provide the key requirements, which was remote access across the Cloud. One fundamental issue arising from the change in technology was that any replacement needed to be introduced via a very smooth transition; there could be no interruption to operations. This included the need for a data migration to be part of implementation. Further to this, there was very little time for training or getting to know a new system, so the replacement needed to be highly intuitive.

Finally, the requirement for the system to be accessible both locally and remotely put an increased emphasis on data security, but given TLP's anticipated expansion into other cities, it was important the system was cloud-based with no need for local installation or support.

What we did
We began to create the specification for The Listening Place's new system just as the Covid-19 pandemic restrictions were being introduced, which further emphasised the need for the new system to be cloud-based and not tied to a single location. As part of this process, we took the time to understand the existing system as well as its shortcomings, which arose both from its age and the technology used to write it. Naturally, the users at TLP were fully involved in this process, which took us all the way from a blank canvas to a signed off specification.

We designed the system such that it had a familiar look and feel for the users, whilst applying all our user interface and experience (UI/UX) knowledge to ensure the new software was simple and intuitive to use. This was vital as many new Volunteers would be interacting with it for the first time remotely. Of course, putting their data into the cloud – as opposed to holding it locally – was a concern for TLP, but we were able to reassure them that we had the necessary experience to look after their data, as evidenced by our ISO 27001 certification: data security is built into everything we do.

The benefits of a cloud-based approach were demonstrated early on as TLP staff began to carry out the user acceptance testing for the new system from home. And immediately we saw the benefits of the revised workflow, as complex operations and processes were carried out by the staff who were using the new system for the first time, testing functionality such as appointment management, staff data management, and 2-way SMS communication.

A further benefit to TLP was the reporting, whereby reports that previously took tens of minutes to run were delivered in just a few seconds. This real-time reporting against such a large and complex dataset is vital to give The Listening Place the information they need to enhance their service moving forward.

What they said
"
Meantime IT never failed to respond quickly and efficiently, helping translate our requests into functional pieces. They were able to talk us through the technical aspects and best strategies going forward.
"
Laura Fach – New Site/Project Manager
See how our bespoke software has helped our customers and learn how it can help you